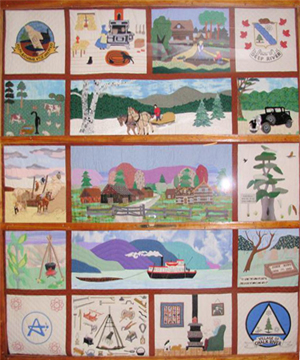 The Laurentian Hills Public Library was established in 2000 as a result ofamalgamation of the Townships of Rolph, Buchanan, Wylie & McKay, with the Village of Chalk River. The two existing libraries of the former municipalities became branches of the newly formed Library. Our libraries are friendly, social places for our communities, where members of the public can interact with their neighbours while taking advantage of the services provided.
Library Quilt
On permanent display in the Point Alexander Branch is a beautiful quilt that was made by many hands in the true spirit of old time communal quilting bees. It portrays local history in such a way that familiar scenes have been transformed, bringing them a new freshness and appeal. It is beautiful, and all of it is the work of local artists and crafts persons whose skill is apparent in every block.
Glimpses of everyday life tell the story of King's Farm (Ferguson's Stopping Place). There are views of haying with a horse-drawn wagon, vegetable gardening, the tools of logging, farming and blacksmith trades, John King's car and his home, sleighing with horses in winter, a tugboat on the Ottawa River, and a panoramic view of the farm. Among the treasures to find in this quilt is a portrait of John King, and a miniature pieced quilt, but every viewing of it reveals something previously overlooked.
Library Board
The Library Board meets on the second Monday of each month, except July and August, to discuss business and further the goals of the library. At present, meetings are being held virtually. They begin at 10am and are open to the public.
Minutes of previous meetings are available by contacting the library.
If you would like to attend our virtual meeting, please contact library@laurentianhills.ca for more information.
Board Members:
Wendy Holland, Chair
Brenda Blimkie, Council Rep.
Yvonne Adam
Don Koroluk
Jean Tooley
Aug. 2, 2022, 12:01 p.m.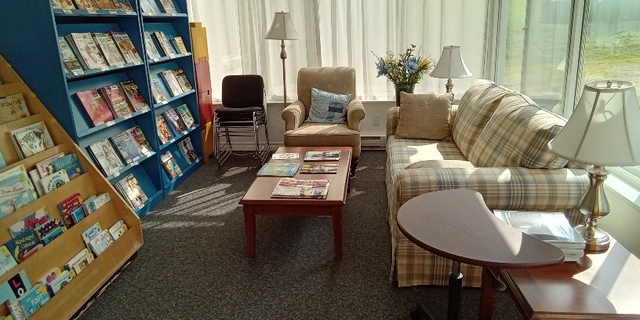 Libraries are COOL! Come in, borrow some books, sit right down, read a magazine or …
June 8, 2022, 4:20 p.m.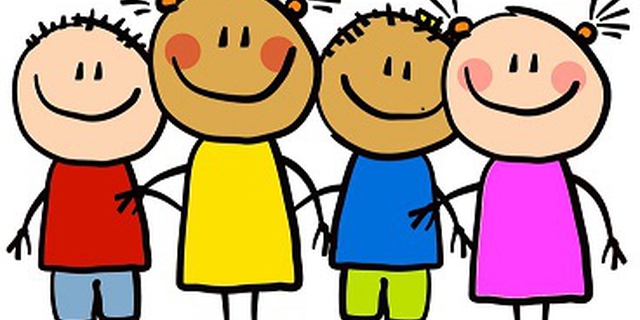 The Laurentian Hills Public Library Board is accepting applications for the position of CEO / …
April 19, 2022, 6:28 p.m.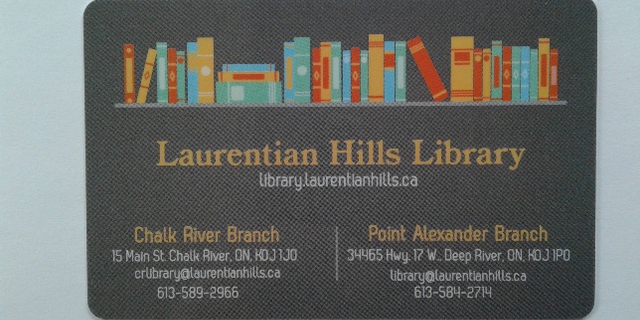 NEW HOURS Beginning 2 May, both branches of Laurentian Hills Library moved to new opening …